7 Tips for Applying Makeup on Oily Skin
---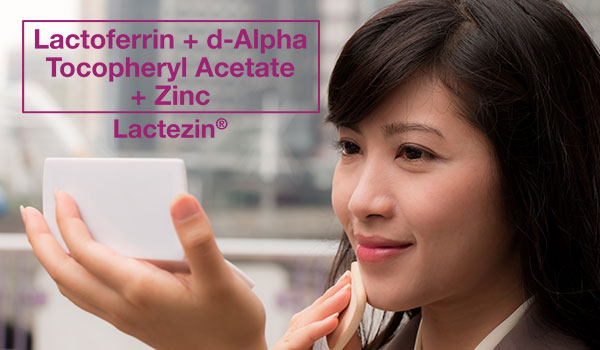 If you have oily skin and happen to enjoy wearing makeup, then you know how challenging it can be to get it to stay put. How many times have you had to deal with your foundation caking or melting, your eyeshadows creasing, and your blush fading even before the day ends? Not to mention the shine that definitely doesn't come from painstakingly applied highlighter.
No worries, though. We've put together some helpful tips on how to get that perfectly made up look so you can shine (in a good way, of course).
Why do I have oily skin?
Before we get to the makeup tips, it's important to understand your skin type so you know how to work around it. When you have an oily skin type, your face feels and looks shiny and moist, especially during the middle of the day. Your pores also tend to be clogged making you more prone to blackheads, whiteheads and pimples.
What could be causing you to have oily skin? Hormones and genetics are the main factors to blame for the excess skin oil production. Also, during puberty and other life events, fluctuating hormones can cause an increase in androgen levels, which then leads to increased oil production.
Makeup tips for oily skin
Now that you have a better understanding of how your skin type works, here are some tried-and-tested makeup tips to help you look fresh throughout the day:
Start with good skincare.
Always start with clean skin and for oily skin, that means using a gentle cleanser beforehand. Next, go for an SPF-product that's light, hydrating, and oil-free.An important step that most people forget if they have oily skin? Moisturizing. Conditioning and hydrating your skin gives you a smooth and even makeup application, making it look more natural and radiant. All skin types need hydration, but for oilier skin types, go for a lightweight moisturizer that balances the skin's natural moisture content without weighing it down.
Prep with mattifying primer.
As per makeup experts, using an oil-control, matte finish primer is essential to getting your makeup to last. A good primer can make all the difference between a shine-free complexion and having to touch up your T-zone every so often in the bathroom.
Don't forget to prime your eyelids.
You can also opt to invest in eye primer if your eye makeup tends to fade towards the end of the day. Eye primer helps lock eye makeup in place, while also absorbing oil that would lead to smudging, creasing, and fading. A good eye primer not only helps products last longer, intensifies eyeshadow colors.
Choose the right foundation and concealer formula.
When shopping for makeup for oily skin, be on the lookout for formulas that have "mattifying" and "long wear" on the label. These products are specifically designed to combat unwanted shine. On the other hand, you'll want to avoid cushion compacts and labels that read "luminous" or something similar. Steer clear of stick foundations too, which can feel occlusive on your skin.For tools, you can use a foundation brush or sponge as long as you're careful with your application. You can always start off light, then build as you go along so you can avoid a cakey look.If you have any concerns like dark under eye circles or blemishes, apply a tiny dab of concealer on these concern areas and blend it out really well using your blending sponge or brush.
Use cream blush + powder blush.
Color tends to fade faster on this skin type, so to ensure wearability: layer products in natural ways. Start off with a cream blush on the apples of your cheeks, then top off with a powder blush in a similar shade to set for all-day wear.
Lock everything in with a setting spray.
Misting liquid over powder? Trust us, this works. A makeup setting spray is a weightless spray that controls oil, deflects shine, keeps oily skin looking matte and helps makeup stay put. After you apply all your makeup, hold it at a distance from your face and spray evenly all over your face and neck. Take care not to use too much; a thin layer already works wonders.
Use blotting paper and powder for midday touchups.
A common mistake when touching up makeup is applying powder immediately and often, which ends up giving you a grim, cakey appearance. When you're touching up during the day, blot excess oil with oil-control film or sheets first, then pat gently. Then apply light powder. By using these products designed for oil absorption, foundation and color will not be disturbed during the touchup process.
Managing oily skin with Lactezin
On top of proper skincare, you can also try Lactoferrin + d-Alpha Tocopheryl Acetate + Zinc (Lactezin) to help alleviate oily skin. It contains a formulation of 3 ingredients that has oil-regulating properties to help improve skin appearance and helps lessen pimples with regular intake.
For more tips on how to combat oily skin, read more here: You vs. Grease: How to Combat Oily Skin
SOURCES:
https://www.dermstore.com/blog/top_ten/makeup-tips-oily-skin/
https://www.vogue.in/beauty/content/makeup-tips-for-oily-skin-types-expert-approved-tricks-techniques
https://www.paulaschoice.com/expert-advice/makeup-tips/face/makeup-tips-oily-skin.html
Frequently Asked Questions
Do you have questions? We have answers!
Clinical Studies
Find out more about the science behind Lactezin here.
Testimonials
Know what others say about Lactezin