Makeup and Pimples: What You Need To Know
---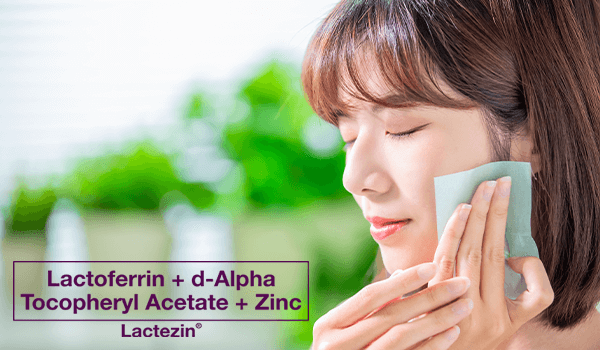 The connection between pimples and makeup can be a little confusing. On one hand, there are claims that wearing makeup too often is bad because you're not letting your skin "breathe", or that cosmetics can clog your pores and break you out. On the other, you want to cover existing blemishes so they're less apparent.
So, makeup or no makeup when you're acne-prone?
Does makeup cause acne?
To this, there is no straightforward yes or no answer. There are certain factors that you have to take into account, such as the type of makeup you're using and even how you take it off afterward. Keep on reading to learn more about what you should consider when you're working with makeup on acne-prone skin.
Check the label.
In theory, if your make up is not of the pore-clogging kind, wearing it for long periods shouldn't be a problem. But to be sure your makeup isn't the culprit behind your breakouts, it's best to check the label on your products.
It's not always a 100% guarantee but it's still in your best interest to use products labeled with terms such as 'non-comedogenic,' 'non-acnegenic,' 'does not clog pores,' or 'won't cause breakouts'.
You'll also want to take note of ingredients that might irritate your skin, including common irritants such as isopropyl myristate, sodium lauryl sulfate, myristyl myristate, and laureth-4. Another ingredient to avoid is alcohol, which can dry the skin.
Clean your tools.
Even if you have a full arsenal of anti-acne makeup, it won't do any good if your brushes and sponges aren't clean. Applying makeup with dirty fingers or tools can spread germs and irritate the skin, which may lead to breakouts for those with acne-prone skin
For any makeup brushes that are used to apply foundation or any liquid makeup, it is recommended that you clean them at least once a week to prevent bacteria buildup. Use a brush shampoo, or a gentle shampoo, diluted with warm water.
Cleanse correctly.
Cleansing, especially at night before going to bed, is a crucial skincare step. If you skip this step, the dirt, sweat, oil, and toxins that your face has accumulated throughout the day sit on your skin all night, which may lead to breakouts and even premature signs of aging. That being said, it's important that you cleanse your skin thoroughly but gently.
One way to do this effectively is through a method called double cleansing: a routine where you start off with an oil-based cleanser then follow up with a water-based cleanser. This double-cleansing method may be beneficial for stubborn pore-clogging and acne-causing impurities that can stay on the skin even after washing your face once.
Know when to apply makeup to a breakout.
With the right base or concealer, it is generally safe to cover up pimples with makeup. The only time you shouldn't is when you just picked or popped it. At that point, it's basically an open wound and applying makeup could only delay the healing process.
All in all, wearing makeup won't cause you to break out if you're using the right types of makeup. Avoid acne-causing ingredients, keep your tools clean, and maintain a good acne-fighting skincare routine and you'll be in the clear– as well as your skin.
SOURCES:
https://www.aad.org/makeup
https://www.webmd.com/skin-problems-and-treatments/acne/acne-skin-care-makeup
Frequently Asked Questions
Do you have questions? We have answers!
Clinical Studies
Find out more about the science behind Lactezin here.
Testimonials
Know what others say about Lactezin