OTC Acne Pills and More: Skincare During the Rainy Season
---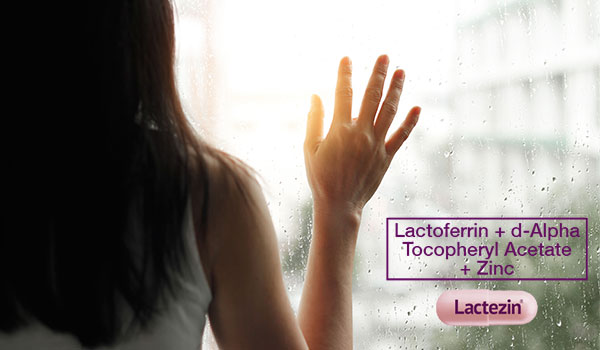 The rainy season is here! While it brings us some relief from the sweltering heat, you cannot deny the number of skin problems it tags along. This includes oiliness and dryness that can lead to acne. While our skin can repair itself and take a couple of beatings, we should not take it for granted. It's important to change our skincare regimen according to changing seasons.
From moisturizing effectively to regular intake of OTC acne pills, read on for tips of skincare for the rainy season.
So what is the exact reason behind acne during the rainy season?
The heat of summer and the increase in humidity during the rainy season heightens the skin's sebum production, leading to a shiny appearance that becomes a breeding ground for bacteria. An oily face invites dust, dirt, and sweat that causes the pores to become clogged, which would later trigger acne breakouts. Not only that, but your overall complexion can become dull and lifeless – matching the gloomy weather outside. Acne can affect not just the face, but also the back, arms, and buttocks.
Luckily, there are several ways you can keep the skin from going haywire. Take a look at our tips below.
Water, water, water
Water alone doesn't necessarily help clear out all your skincare woes, but it will definitely help in terms of bringing back hydration to oily and dry skin. Parched skin is also the most common during the rainy season, so don't forget to drink up your regular 8 glasses to keep the skin hydrated while also flushing out the toxins from your system.

Wash thoroughly
We don't just mean your face! Monsoon or not, cleansing your entire body is a must to ensure that your skin won't suffer from bacterial buildup. And while a steaming hot shower may sound tempting during a cold breeze, experts recommend dialing down on the water temperature. Frequent hot showers can result in dryness, itchiness, and rashes. Meanwhile, don't overdo washing your face; twice a day would suffice. Wash once in the morning, once before bed and in other instances such as when you come home, drenched from the pouring rain outside.

Sunscreen is still a non-negotiable
It doesn't matter if the sun's not out. You still need to ensure that your skin is well-protected from the harmful effects of UVA and UVB rays, as these can penetrate through clouds, rain, or fog. Clouds can only filter less than 25% of these cancer-causing UV rays. So regardless of weather, it's always wise to slather on a layer of sunscreen before heading out.

Moisture is key!
Sometimes, a relaxing, cozy stay-in is just what your skin needs to bring it back to life. Show it some extra love by pampering with moisture. When selecting skincare products that are perfect for any weather, look for these ingredients: ceramide, hyaluronic acid, and glycerin. These 3 ingredients are studied to rehydrate and protect the skin at its driest and irritated. If you want something a little more luxe, a moisturizing or hydrating skin mask that's infused with concentrated serums is the way to go.

Also, don't forget your lips! The chilly weather is one of the most notorious culprits of dry and chapped lips. To help fight and prevent cracked, peeling, and bleeding lips, carrying an ultra-nourishing lip balm anywhere with you is a must. Another moisturizing trick is to apply lotion while your skin is still damp from taking a shower. Experts say that this is an effective way of replenishing lost moisture and repairing the skin's natural barrier.

Go easy on the makeup
While the new normal dictates that we should keep our regular routines to have some semblance of normalcy, it's recommended that we go easy with using makeup products or just totally skip it for the time being. We know it can be difficult to resist a bright red lip and colorful eyeshadow against the grey backdrop of the outside, but our skin is going to need all the help it can get.

If you're constantly facing clients in meetings or having open webcam sessions with colleagues, a light water-based foundation with powder blush is enough to get you ready for video calls. Remember to keep it as matte as possible so it can outlast the weather.

OTC Acne Pills
Give extra care to your skin with OTC Acne Pills like Lactoferrin + d-Alpha Tocopheryl Acetate + Zinc (Lactezin) that can help lessen breakouts. Lactezin contains natural anti-inflammatory and antibacterial properties that can help reduce sebum production and enhance the body's natural defenses in fighting bacteria.


Take Lactoferrin + d-Alpha Tocopheryl Acetate + Zinc (Lactezin) twice daily to help lessen pimples and give clear skin in as early as 2 weeks.

Lactoferrin + d-Alpha Tocopheryl Acetate + Zinc is the generic name of Lactezin. If symptoms persist, consult your doctor.

If you want to find out why Lactoferrin is a skincare must-have, click here.
SOURCES:
https://www.mid-day.com/articles/mumbai-rains-reasons-for-acne-in-monsoon-and-how-to-treat-it/21336155
Frequently Asked Questions
Do you have questions? We have answers!
Clinical Studies
Find out more about the science behind Lactezin here.
Testimonials
Know what others say about Lactezin