Say Goodbye to an Oily Face With These 6 Makeup Solutions
---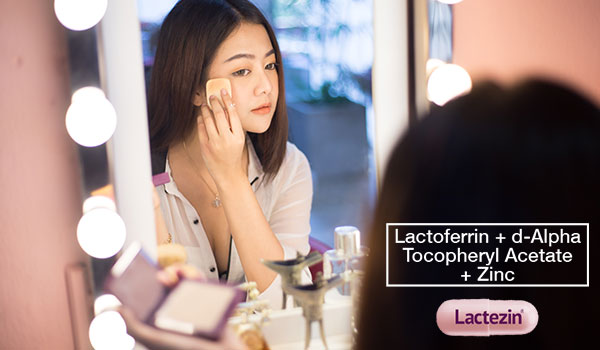 Oily guys and gals know the struggle of making your makeup stay all day long; it tends to dissolve products faster, making your nearly naked face look greasy and gross by the end of day. Here are 6 oily face solutions to make your makeup last!
Make skincare the foundation of your routine
If you want your makeup to last all day, then you have to use the right products for your skin. Makeup application highly depends on skincare. For instance, exfoliating two to three times per week will gently slough away any dead skin cells that makeup products tend to attach to. This will result in smoother skin texture and appearance, making it the ideal canvas for makeup application.
And if you're thinking of skipping moisturizer, don't. All complexion types need daily moisturization. For the case of oily skin, a moisturizer helps even out makeup, making it look natural and radiant. Look for an ultra lightweight, oil-free moisturizer that will help balance the skin without weighing it down. A popular ingredient for hydration is hyaluronic acid which turns-off over-working oil-producing glands while making skin soft and supple.
Prep the skin
A lot of people tend to skip primer, but it goes a long way when it comes to improving the look and wear of your makeup. A primer is a solution that can help absorb excess oil on the skin while also holding your makeup in place for a long period of time. For a less greasy look, opt for a mattifying type of primer. Make sure to apply on areas that usually get oily like the nose, forehead, and chin. Pore-filling primes can also help erase the look of pores and prevent base products like foundation and concealer from sinking into it.
When choosing products, go for a satin or matte finish
No matter what kind of look you're going for, whether it's full glam or natural, you'd want makeup products that can deliver a buildable, sheer to full coverage with a satin or matte finish.
Make a habit out of doing a bit of research before reaching for any makeup product. Unfortunately, most products are rich in oils such as coconut oil and beeswax that can trigger skin's oil production.
Powder foundations work perfectly with oily skin. Modern formulations are lightweight, easy to blend, and natural looking, making chalky and heavy powders a thing of the past. Some are even formulated with salicylic acid that helps reduce oiliness and improve skin condition.
For blushes, skip creams and liquids as these have a tendency to fade fast on oily skin. Powder blushes can brighten up your otherwise dull look while also soaking up excess oil to prevent the skin from looking shiny. You'll want something that claims all-day wear for a lot from a natural flush that screams lit from within.
Finish with a few spritzes of makeup setting spray
People who love makeup should consider getting setting spray as a solution to their oily skin problems. After all the hard work you've put in to make yourself look pretty and presentable, you wouldn't want it all to melt down, would you? Setting sprays can improve the longevity of your makeup. Make sure to look for oil-free formulas that can temper shine and keep unwanted oil at bay.
Don't forget touch-ups
You can't control the way your skin behaves, but you can control your shine with blotting sheets. These tools are practically godsend solutions for people with oily skin. They are cheap, really easy to use, and super convenient as they can fit right in your pocket. Blotting sheets can help soak all the oils on the surface of your skin while also keeping your makeup in place. All it takes is a single pat or swipe!
When it comes to mid-day touch ups, avoid piling on layers upon layers of makeup. Many people think that retouching with powder can help reduce shine. It can, but at the cost of your pores. Excess face powder pushes the pores which causes it to release more oil on the skin, leading to a greasy look that you were trying to avoid in the first place.
Take OTC acne pills daily
Over-the-counter acne pills like Lactoferrin + d-Alpha Tocopheryl Acetate + Zinc (Lactezin) can help alleviate oily skin woes. It contains Lactoferrin, an iron-binding protein that can help reduce the production of sebum. Combined with the oil-regulating and skin-protective properties of Vitamin E and Zinc, it can help lessen pimples and give clear skin in as early as 2 weeks.
Lactoferrin + d-Alpha Tocopheryl Acetate + Zinc is the generic name of Lactezin. If symptoms persist, consult your doctor.
Want to know the reasons behind your oily skin, plus products and solutions that can help make it less so? Find out here.
SOURCES:
https://makeupandbeauty.com/how-to-prevent-an-oily-face-after-applying-makeup/
Frequently Asked Questions
Do you have questions? We have answers!
Clinical Studies
Find out more about the science behind Lactezin here.
Testimonials
Know what others say about Lactezin