The Acne Skin Care Product Glossary: Everything You Need to Know
---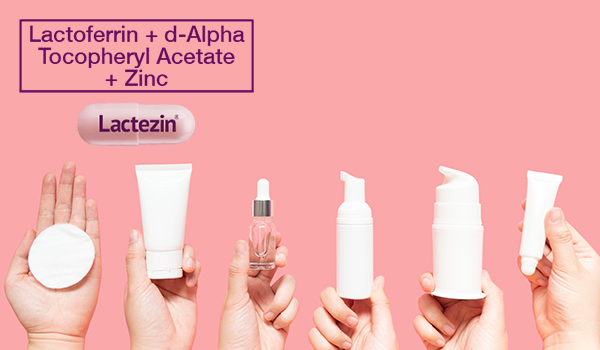 Overwhelmed by the abundance of acne skin care products and their benefits? You're not the only one. So here's a handy list decoding acne skin care products' ingredients.
AHA (Alpha-Hydroxy Acid)
Natural, water-soluble acids from fruit, dairy products, and sugar cane.
Aids in enhancing skin texture through exfoliation and removal of dead skin cells and unblocking of pores.
Decreases chances of acne and pimple formation.
BHA (Beta-Hydroxy Acid)
Oil-soluble acids ideal for oily, acne prone skin.
Dissolves bonds between dead skin cells and normalizes pore lining, effectively combating acne and breakouts.
Anti-inflammatory and antibacterial
Ceramides
Lipids that help bind cells together to enhance the surface layer of the skin, also known as the epidermis.
Also helps retain moisture and protect against environmental aggressors like pollution.
Citric Acid
A type of AHA, extracted from citrus fruits.
Primarily used to adjust a product's pH level.
Promotes skin peeling and regrowth.
Collagen
A major skin component that provides firmness and hydration while strengthening the skin.
Glycolic Acid
A type of AHA, derived from sugar cane.
Exfoliates and smooths out fine lines and uneven texture.
Can also boost moisture content, making the skin's surface barrier hydrated and strong.
Green Tea
A powerful antioxidant that has anti-inflammatory and antimicrobial properties.
Hyaluronic Acid
An oil-free molecule that increases the skin's moisture content.
Can hold 1000x its weight in water.
Revitalizes the skin's outer layers, resulting in softer, smoother, and hydrated skin.
Kaolin Clay
A type of natural clay, first obtained in China.
Can absorb oil and drive out impurities.
Lactoferrin
An iron-binding, naturally occurring protein in the body.
Antibacterial, anti-inflammatory, and repairs damaged skin cells.
Also reduces inflammation and sebum production.
Lactic acid
A type of AHA, derived from milk.
An anti-wrinkle and pigmentation-fighting ingredient for improved skin tone and reduced pore appearance.
Niacinamide
A type of Vitamin B3 that reduces the appearance of large pores, uneven skin tone, fine lines, and dullness.
Non-comedogenic
A term used to describe products that are formulated to not clog pores.
Oil-free
Implies that the product is free from natural and artificial oils.
Retinol (Vitamin A)
Exfoliates and reduces formation of acne scars by aiding in the production of collagen.
Must be used together with SPF as it increases the skin's sensitivity to sun.
Salicylic Acid
A popular acne-fighting ingredient that can prevent future comedones from forming.
Sulphates
A synthetic or plant-derived cleansing agent that creates a lather to remove dirt and oil.
Tea Tree Oil
Derived from Melaleuca alternifolia tree.
Can help prevent acne lesions and reduce swelling brought about by inflammatory acne.
Vitamin E (Tocopherol)
A powerful antioxidant that helps fight free radical skin damage.
Regulates collagen and helps prevent skin dryness.
Also helps protect skin from sun's UV-induced photodamage.
Zinc
A chemical nutrient that has oil-regulating properties to help improve skin appearance.
Also helps boost and enhance the immune system.
The next time you find yourself stumped by your acne skin care products' ingredient list, this glossary is just a click away!
---
Click here to learn more about Lactoferrin + d-Alpha Tocopheryl Acetate + Zinc (Lactezin): how Lactezin® works
If symptoms persist, consult your doctor.
ASC Ref No. U084P031521LS
SOURCES:
https://www.adorebeauty.com.au/beautyiq/skincare-a-z-glossary/
https://www.everydayhealth.com/skin-beauty/beauty-skincare-glossary-you-need/
https://www.ewg.org/skindeep/ingredient/701385/citric_acid/#
https://www.healthline.com/nutrition/collagen-benefits#section1
https://www.healthline.com/health/benefits-of-green-tea-for-skin#green-tea-and-acne
https://www.paulaschoice.com/expert-advice/skincare-advice/anti-aging-wrinkles/how-hyaluronic-acid-benefits-skin.html
https://www.stylecraze.com/articles/benefits-of-kaolin-clay-for-skin/#gref
https://www.healthline.com/health/beauty-skin-care/lactic-acid-peel
https://www.paulaschoice.com/expert-advice/skincare-advice/anti-aging-wrinkles/how-niacinamide-helps-skin.html
https://www.webmd.com/beauty/retinoid-gel-and-cream-treatments#1
https://www.healthline.com/health/beauty-skin-care/tea-tree-oil-for-acne-scars
Frequently Asked Questions
Do you have questions? We have answers!
Clinical Studies
Find out more about the science behind Lactezin here.
Testimonials
Know what others say about Lactezin