4 Ways to Conceal Pimples Before a Video Conference
---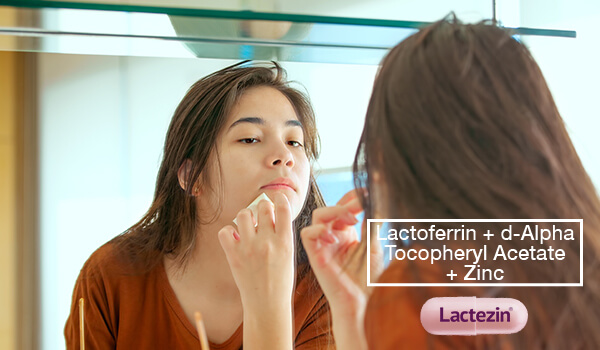 It happens to everyone: One day you're preparing a huge presentation for your colleagues, then you notice a big red pimple forming almost instantly.
If you have no time, you might be tempted to just get over it and pop it right then and there. After all, how hard could pimple popping be, right? But no matter how desperate the situation, you should keep your hands off your pimples especially if you want to avoid infection and scarring.
So if you have an important video call coming up, try these methods instead:
Tip # 1: Ice
If you're looking for something quick and readily available at home, icing can temporarily improve the appearance of inflammatory pimples. This method reduces the inflammation, therefore reducing its redness and size, making it less noticeable. Icing can also relieve pain that occurs with nodular and cystic acne, thanks to its short-term numbing effect.
To ice your pimples, first, you must cleanse your skin. Then, wrap the ice in a thin cloth or thick paper towel. Apply the ice to your pimples in one-minute increments only, but if your breakout is extremely inflamed, you may follow up with multiple rounds with 5-minute breaks in between. This way, your skin won't be damaged by painful ice burns.
Tip #2: Spot Treatment
Spot treatments formulated with acne-fighting ingredients like salicylic acid, benzoyl peroxide, or sulfur can help dramatically reduce the appearance of breakouts, plus reduce the swelling and pain. These types of products can penetrate deep into pores to clear blackheads and whiteheads and even dissolve the blockage within the pore that created the blemish in the first place.
It's important to take note that spot treatments only work on minor, surface-level papules, and pustules. They can't reach severe blemishes like acne nodules and cysts as they form deep into the skin.
Tip #3: Pimple Patches
Pimple patches are all the craze in the skincare community because of its miraculous-like treatment to the skin. It eliminates the infection and bacteria by absorbing the gunk from whiteheads and breaking down the debris from blackheads.
You'll wake up to a less inflamed pimple when left on overnight. They also act as bandages that prevent you from accidentally touching your pimples throughout the day. These thin and translucent hydrocolloid patches even stick to the skin when you're showering. Plus, they come in different sizes, so you'll have something for your breakout no matter how tiny or big it is.
Tip #4: Makeup
Before you gather all the necessary makeup tools, you have to know that you should never put makeup on an open breakout or a freshly popped pimple. Doing so will slow down its healing process. Plus, it's unsanitary! So make sure your blemish is closed before doing the following steps:
Step 1: Clean makeup tools
You don't need us to tell you that dirty makeup tools like brushes and sponges can harbor bacteria and make your breakouts worse. If you're applying makeup daily, brushes that are used around the eye should be cleaned twice a week. Meanwhile, face tools like foundation and concealer brushes should be washed once a week.

Step 2: Color correctors
Color correctors can be a bit intimidating for beginners, but you don't have to be a professional makeup artist to understand how colors work on different skin issues. If your regular everyday concealer simply can't handle your inflamed blemishes, reach for a green color corrector. This will help neutralize the appearance of redness. And if you have dark spots from healed pimples, go for a peach color corrector. Just pat the pigment gently on the affected area, then apply concealer on top.

Step 3: Concealers
We cannot stress enough how important it is to shade match your complexion products like foundation and concealer. Using a concealer that is too light for your skin tone is like putting a spotlight directly on your pimple—and that is exactly the opposite of what you want to happen! Make sure you are using the right shade when covering up breakouts. And start with a small amount of product first, as piling on layer after layer can enhance the pimple's texture.

But if you're constantly facing colleagues and clients, why not try an OTC acne pill that can help prevent breakouts from happening in the first place?
Lactoferrin + d-Alpha Tocopheryl Acetate + Zinc helps lessen breakouts!
This unique combination of nutrients can help reduce inflammation and sebum production and enhance the body's natural defenses in fighting bacteria.
Oral medication like Lactoferrin + d-Alpha Tocopheryl Acetate + Zinc (Lactezin) have oil-regulating properties that can help fight pimple-causing bacteria, lessen pimples and improve skin appearance with regular intake.
Lactoferrin + d-Alpha Tocopheryl Acetate + Zinc is the generic name of Lactezin. If symptoms persist, consult your doctor.
If you want to find out how you can conceal different types of facial pimples, click here.
SOURCES:
https://lactezin.com/overnight-acne-treatment-acne-emergency-kit-essentials/
https://lactezin.com/acne-sos-tips-treating-pimples-overnight/
https://lactezin.com/conceal-facial-pimples/
Frequently Asked Questions
Do you have questions? We have answers!
Clinical Studies
Find out more about the science behind Lactezin here.
Testimonials
Know what others say about Lactezin