Acne, Dark Spots, and More: The Skin-boosting Effects of Vitamin E
---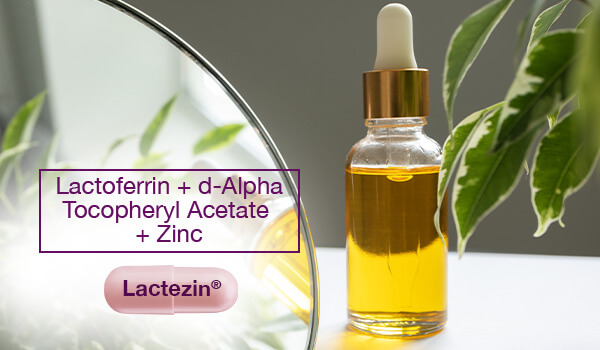 When you say skincare, one of the many ingredients you'll instantly think of is Vitamin E, whether it be for dark spots, acne, or acne scars. And why wouldn't you? It's a popular nutrient that has proven its amazing skin-loving benefits over time. You'll find it in many products that may already be stored in your medicine cabinet, from serums to oral medications.
But what exactly is Vitamin E and what can it do for your skin? Let's take a deeper look at everything Vitamin E and how you can best incorporate it into your daily beauty routine.
What is Vitamin E?
Vitamin E is a fat-soluble vitamin which means that it dissolves in fat. It is naturally occurring in a lot of foods including cereals, poultry, eggs, vegetable oils, and more. It is also normally provided to the skin through sebum.
Vitamin E comprises a group of molecules with related structures, some of which may have unique attributes to the skin. Tocopheryl acetate and tocopherol are the most commonly found in skincare products.
How does Vitamin E benefit the skin?
As an antioxidant, Vitamin E is considered to be essential for the maintenance of healthy skin. This is because antioxidants are known to prevent oxidative damage to cells by helping to get rid of harmful and destructive free radicals that come from daily environmental stressors including air pollution and unprotected sun exposure. Aside from that, Vitamin E moisturizing and healing benefits that can strengthen skin barrier function, making it an all-around vitamin.
Photoprotection
The use of Vitamin E in the prevention of UV-induced damage has been extensively studied given its primary role of intercepting any inflictions caused by free radicals. It can absorb UVB light, which is the harmful spectrum of sunlight that's accountable for burning and aging skin.
Multiple studies have also found that the combination of Vitamin E and Vitamin C can help protect the skin against UV damage. The oral and topical applications of both vitamins has resulted in the decrease of sunburned cells, DNA damage, and skin pigmentation after UV exposure.
But this doesn't mean that you can give up on our sunscreen. Instead, think of it as an extra layer of protection against that sun's damaging rays.
Anti-Inflammatory Effects
Inflammation can occur to the skin after significant UV exposure, resulting in skin swelling, thickness, erythema, and edema. Thankfully, Vitamin E can keep the skin calm by forming a protective barrier around cells to keep them healthy and hydrated. One study has even found that Vitamin E can provide significant relief against atopic dermatitis, which causes red, itchy, and irritated skin.
Treatment for Acne, Dark Spots, Acne Scars
Vitamin E has great anti-inflammatory effects that can help boost the immune system and aid cell regeneration. Not only that, its fat-soluble properties make it easier for the skin to absorb it, allowing acne to heal quicker. It can also help the skin lock in moisture and promote the production of collagen, making it a great product to have in your beauty arsenal if your skin is plagued by dark spots or acne scars.
Anti-Aging Effects
Vitamin E's moisturizing benefits may help dry and wrinkled skin look more supple and youthful. Thanks to its photoprotection benefits, it halts the aging process and prevents fine lines from being formed in the first place. That's why it's only natural to find Vitamin E in a lot of anti-aging skincare products.
How to best apply Vitamin E?
Due to Vitamin E's thick consistency, it's best to apply it during nighttime for optimized absorption into the skin. In standard applications, one can apply a serum or oil mixture as an all-over treatment on the face. Make sure to look for pure Vitamin E oil or at least look for products with high concentrations of it in the formula.
It also works as an overnight treatment. Simply rub the oil onto the face in small circular motions to stimulate circulation. Wait for it to absorb for at least 20 minutes before going to sleep. Repeat this treatment one to two times a week.
ne may also incorporate foods that are high in Vitamin E in their diet. This can help speed up cell synthesis, making you feel generally healthier. Foods that are high in Vitamin E include sunflower seeds, almonds, avocados, red sweet peppers, mangoes, and more.
Over-the-counter oral supplementations that contain Vitamin E like Lactoferrin + d-Alpha Tocopheryl Acetate + Zinc (Lactezin) may help provide sufficient protection for the skin against pimple-causing bacteria and inflammation. This is because Vitamin E, when combined with Lactoferrin and Zinc, helps lessen pimples and give clear skin in as early as 2 weeks. It can also help prevent future pimples from recurring when taken twice daily for maintenance.
Lactoferrin + d-Alpha Tocopheryl Acetate + Zinc (Lactezin) is available in all leading drugstores nationwide. You may also purchase online through Lazada and Shopee. Try it now to see its skin-boosting effects for yourself!
SOURCES:
https://lpi.oregonstate.edu/mic/health-disease/skin-health/vitamin-E
Frequently Asked Questions
Do you have questions? We have answers!
Clinical Studies
Find out more about the science behind Lactezin here.
Testimonials
Know what others say about Lactezin