Before, During, After: How to Prevent and Treat Maskne at Home
---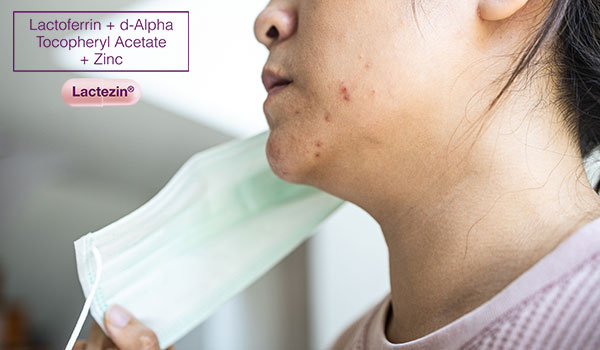 Maskne? The struggle is very real! Over the past year, it has become a part of everyone's lives since a mask-less existence is no longer an option in this pandemic. All things considered, maskne is a small price to pay for the non-transmission of the virus, but wouldn't you rather not have to pay at all? If you want to know how to prevent and treat maskne at home, then continue reading below.
To learn the different kinds of maskne home remedies, one must be aware that maskne is not a new type of condition. It is simply a blanket term for the skin irritations that can be caused by wearing a face mask. These include:
Acne - develops when the pores become trapped with oil, dirt, and dead skin cells.
Contact Dermatitis - red rashes and blisters that occur when one is sensitive to the face mask material.
Rosacea - causes redness and visible blood vessels when wearing a mask.
Folliculitis - an infection in the hair follicles that leads to bumps that resemble acne breakouts.
In general, maskne is the aftereffect of clogged pores. If your skin is already plagued with oil, bacteria, and dead skin cells, wearing a mask all day can exacerbate it. Plus, it traps moisture due to breathing and sweating. Friction and chafing are also major causes of maskne if your skin is overly sensitive to different cloth materials, especially if the mask has been pretreated with chemicals or washed with scented detergent.
For maskne home treatment, try these tips:
The Right Mask
Masks with multiple layers of lightweight cotton are the ideal choice for those with maskne. You can even insert your own filter in for maximum protection against the virus. If you are working out, then a sweat-wicking mask is your best bet. This type of mask uses the same fabric from workout garments that draws moisture away from the body. As long as you are complying with the recommendations of the COVID-19 experts, then you should have no problem.
Maintaining a Routine
While we are living in the new normal, some things should stay the same and that includes our skincare. It's always a good idea to follow your regular routine, this includes washing your face once in the morning and night and before and after wearing a mask. Start with a gentle cleanser that is tough on germs, yet gentle on the skin. Look for ingredients like salicylic acid which can cleanse the pores and aloe that can help calm redness.
After that, you can try this easy and cost-effective way to heal maskne at home. All you need is a bowl of boiling water or a soaked hot towel. The steam can help open up the pores and loosen any built-up dirt for easier disinfection. It can also increase perspiration which boosts circulation and breathes new life into the skin. After 10 minutes, the skin will be ready to soak up any product that can further remedy maskne.
If you are dealing with raw skin and irritation, apply a cortisone cream to the affected area. Topical medications like these can destroy or inhibit the growth of susceptible bacteria, helping relieve itching and sensitivity. Then, use a moisturizer that contains bio hyaluronic acid which can help restore the skin barrier that is disrupted by wearing a mask.
And while you may be tempted to cover up your imperfections with makeup, experts say that beauty products like foundation and blush can clog the pores and prolong the healing of your maskne. Don't worry, you'll be wearing a face mask majority of the time outside anyway.
Keeping the essentials handy
Aside from being totally refreshing, an antibacterial facial spray can soothe inflamed areas and keep oiliness at bay. Even those with the most troubled of complexions can enjoy a gentle, hydrating, and soothing spritz every hour. So, when you're out and about, don't forget to bring this new normal essential.
If you're looking for a long-term solution to your acne woes, try over-the-counter medications like Lactoferrin + d-Alpha Tocopheryl Acetate + Zinc (Lactezin) which can help fight pimple-causing bacteria while reducing sebum and inflammation. It also helps lessen pimples when taken twice daily for 12 weeks.
Lactoferrin + d-Alpha Tocopheryl Acetate + Zinc (Lactezin) is available in all leading drugstores nationwide. You may also purchase online through Lazada and Shopee.
Lactoferrin + d-Alpha Tocopheryl Acetate + Zinc is the generic name of Lactezin. If symptoms persist, consult your doctor.
If you want to know more about quarantine skin and maskne home remedies, click here.
SOURCES:
https://www.healthline.com/health/maskne
ASC REFERENCE NO. U153P030821LS
Frequently Asked Questions
Do you have questions? We have answers!
Clinical Studies
Find out more about the science behind Lactezin here.
Testimonials
Know what others say about Lactezin