Skinimalism, SPF, and More: Your Top Quarantine Skincare Questions, Answered
---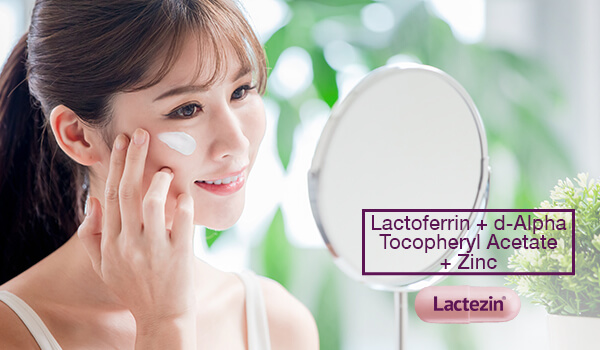 Struggling with your skin during quarantine? You're not alone! Many are experiencing lockdown acne or "quaran-skin," no thanks to the unhealthy skincare habits we formed while in isolation. From acne to dullness, the lockdown has a lot to answer for!
However, taking care of your skin during quarantine shouldn't be difficult as long as you have the basics down. We compiled a couple of beauty and quarantine-related questions that we've taken the liberty of answering to avoid any confusion. Here's everything you need to know about quarantine skincare.
I'm breaking out like crazy in lockdown! How do I prevent this from happening?

Your stress levels might be through the roof this lockdown. After all, dealing with a health crisis while juggling work and home tasks can be too much to take. The stress hormone called cortisol triggers oil production which can clog pores and lead to breakouts. On top of that, chronic stress leads to inflammation which prevents acne from healing, leading to rosacea, eczema, or psoriasis flare-ups. Another reason for your breakouts is that you might be touching your face too much. It's been studied that touching our faces act as a self-soothing mechanism during times of stress and anxiety.

To prevent stress levels from spiking, experts recommend practicing self-care with breathing exercises, meditation, or exercise. To stop the habit of face touching, try busting out disposable gloves that will serve as a sensory and visual reminder that will keep you from moving your hands as easily from surface to face. Lastly, you can hinder the future development of pimples by cleansing your face twice daily. Because even if you aren't going out or commuting, your face accumulates a lot of dirt and oil.

What is "skinimalism"?

We've been made to believe that when it comes to skincare, more is more — the more serums and masks you slather on your face, the more glowing your skin will be. However, this isn't the case for everyone. The combination of active ingredients on the skin can result in redness, irritation, acne, and a compromised skin barrier. Enter: skinimalism.

Skinimalism is the new wave of natural or no-makeup beauty looks where real skin texture can shine through. This radical form of self-love encourages embracing your skin, imperfections, texture, pores, blemishes, discoloration, and all. It's about taking a step back in our skincare and makeup routines in favor of a more minimalist, sustainable, and often, cheaper approach. Because of this, people are slowly starting to realize that they may be pressuring themselves too much to wear makeup every day. While it may not be an entirely novel concept, it shows that society is slowly veering away from the picture-perfect, unrealistic beauty standards.

Not wearing makeup feels good! How can I boost its impact?

One of the good things that came from the lockdown period is that our skin can finally take a break from makeup. Bare-faced/ foundation-free/ "skinimalism" is that way to go, even with trending looks found online. Now, it'll be easier for you to look after your skin, thanks to the decrease of makeup-induced breakouts. Just remember to stick to the usual skincare routine that works for you plus sunscreen, because you can never be too protected when living in the tropics.

Pro-tip: Since summer is here, store your skincare favorites in the fridge for that extra cooling feeling we all crave in the heat!

Do I really need SPF when I'm inside the house all day?

Newsflash: SPF isn't only for the outdoors. Working by a window may be the ideal way to get a bit of sun in this work-from-home situation, but UVA rays can penetrate glass and cause premature skin aging. Unless your office is in a basement with no windows in sight, apply SPF over your serum or moisturizer in the morning.

What kind of sunscreen should I use indoors?

Both mineral and chemical sunscreens are protective against UVA and UVB, so long as they are labeled broad-spectrum and SPF 30 or higher. Chemical filters absorb the UV rays before they can penetrate the skin and cause further damage. Meanwhile, mineral sunscreens act as a physical barrier and bounce rays off the skin and reflect them back. Ultimately, it's all about which sunscreen formula would react best with your skin.

Are there any vitamins I should take that can genuinely help with acne?

Over-the-counter acne medications like Lactoferrin + d-Alpha Tocopheryl Acetate + Zinc (Lactezin) can help lessen pimples and give clear skin in as early as 2 weeks. It has an antibacterial ingredient called Lactoferrin that can help fight pimple-causing bacteria and reduce sebum and inflammation. It also contains Vitamin E that helps maintain healthy skin cells and Zinc that has oil-regulating properties to help improve skin appearance.
Lactoferrin + d-Alpha Tocopheryl Acetate + Zinc (Lactezin) is available in all leading drugstores nationwide. You may also purchase online through Lazada and Shopee.
SOURCES:
https://www.vogue.co.uk/beauty/article/skinimalism-beauty-trend
https://www.msn.com/en-gb/lifestyle/beauty/9-common-lockdown-skincare-questions-answered-by-a-pro-facialist/ar-BB13iuGF
Frequently Asked Questions
Do you have questions? We have answers!
Clinical Studies
Find out more about the science behind Lactezin here.
Testimonials
Know what others say about Lactezin