The Best Medicine and Ingredients Against Acne
---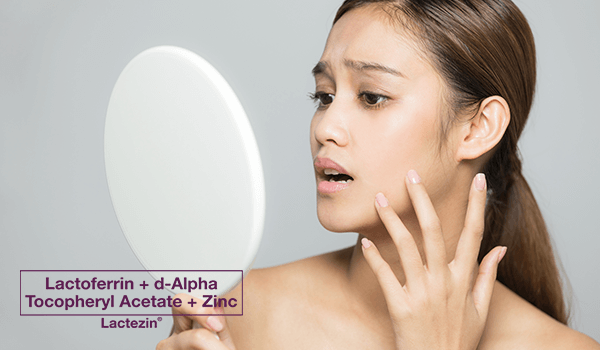 Truth be told, there are so many acne treatment options available and figuring out which one to pick can be very confusing. To help you better understand which product to put on your cart, we give you a list of the most effective acne-fighting ingredients that can best address your acne problems.
Benzoyl Peroxide
Known as the bacteria fighter, benzoyl peroxide kills bacteria that causes pain, inflammation, and redness of the skin. It also removes excess oils and exfoliates dead skin cells. Know too that benzoyl peroxide works best for oily skin and is recommended to be used only for breakouts that resemble blackheads with a red ring around white pustules. More than just preventing skin breakouts, this antibacterial agent is actually used to treat mild to moderate acne conditions. Just a tip: benzoyl peroxide can stain colored clothes so it's best to apply it with caution especially when dressing up.
Salicylic Acid
This beta-hydroxy acid is a potent exfoliant that unclogs pores by exfoliating the inner parts of the hair follicles. It has anti-inflammatory properties that protect the skin from further irritation. It also works well in reducing skin sebum production which is a primary cause of clogged pores, swollen skin, and skin breakouts. What's good about salicylic acid is that even sensitive skin can tolerate this. That's because it's a gentle exfoliator that effectively calms all forms of stressed skin.
Sulfur
Sulfur, paired with other ingredients (to mask its rotten egg smell), is an effective way to combat skin breakouts. It exfoliates dead skin cells and controls excess skin oil production. What's good about sulfur is that it is an antibacterial agent that has less "drying" effects than benzoyl peroxide. Aside from fighting acne, it also has healing properties that help repair scars and hyperpigmentation. A 10% sulfur concentration is best for a combination-to-oily skin.
Clay
Clays are loved for their ability to draw out oil and dirt, leaving the pores clearer and cleaner. For acne-prone skin, clays are recommended since they attract oil and lightly exfoliate the skin. They work by making the acne-causing gunk like dead skin cells, pollutants, excess oils, and makeup residue cling to the clay. When clay dries up on skin and you wash it, you also wash away the grime. Clay also calms and soothes the skin because of its anti-inflammatory properties. It's best to use clay-based masks 2-3 times a week. Kaolin clay is recommended.
Tea Tree Oil
Tea tree oil is an all-natural blemish fighter rich with antimicrobial and antibacterial properties that help flush out skin impurities. It's a potent acne treatment that calms the skin. Research points out that 5% tea tree oil can be as effective as benzoyl peroxide. Just a word of caution: make sure you have some sunscreen on before you apply tea tree oil as this can make you more vulnerable to UV rays. This applies especially to those who have sensitive skin or eczema.
Lactoferrin
Lactoferrin is a natural protein occurring mostly in milk that the body produces. It has natural antibacterial, antifungal, and antiviral properties. More importantly, it has iron- -binding properties whose main purpose is to get rid of excess irons that attract health-threatening pathogens. Hence, lactoferrin starves the pathogenic bacteria that cause acne. Lactoferrin also has antioxidant properties that fight free radicals –- one of the main causes of acne. And because it has anti-inflammatory properties, it helps acne lesions heal faster, stimulating the growth of newer and healthier skin cells.
Acne is a serious skin condition that needs to be addressed using the right product with the right ingredients. Start by using Lactezin. Lactezin has Lactoferrin + d-Alpha Tocopheryl Acetate + Zinc that promotes skin health and immunity. Lactoferrin has antibacterial and anti-inflammatory properties that reduce inflammation and overproduction of skin sebum. d-Alpha Tocopheryl Acetate is an antioxidant that helps fight free radicals. Zinc has oil-regulating properties that help improve skin's appearance. Regular intake (2x/day) of Lactezin with these skin-boosting ingredients help fight acne, improve skin balance, and maintain healthy skin.
Lactoferrin + d-Alpha Tocopheryl Acetate + Zinc is the generic name of Lactezin. If symptoms persist, consult your doctor.
To know more about expert skin care, click here.
SOURCES:
https://www.thehealthy.com/skin-health/acne/ingredients-acne-sufferers-need/
https://www.everydayhealth.com/news/the-best-acne-fighting-ingredients/
https://www.cosmopolitan.com/style-beauty/beauty/a10396685/acne-fighting-ingredients/
Frequently Asked Questions
Do you have questions? We have answers!
Clinical Studies
Find out more about the science behind Lactezin here.
Testimonials
Know what others say about Lactezin