Still Getting Maskne After Cleansing? Take Note of These Skincare Tips
---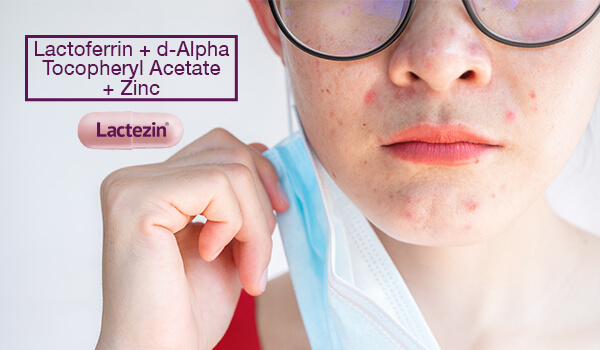 Doing your skincare should always come as second nature especially now that masks are a part of our everyday lives. Washing your face before and after putting on a mask gets rid of any dirt, oil, or sweat that clogs the pores and causes the development of the annoying maskne.
Unfortunately for some, cleansing is not enough to get rid of maskne. Especially for those who are out and about every day, a.k.a, regular mask wearers. With that being said, here are some skincare and lifestyle tips for maskne you should try if cleansing just won't do.
Never reuse a disposable face mask
Repeatedly using a disposable face mask (especially when you wash it after every use) weakens its integrity and its capacity to shield you against infections.
Due to its tendency to occlude breath, sweat and saliva, this everyday essential can encourage bacteria growth which could trigger the appearance of maskne. Make sure you have a steady rotation of reusable face masks so you don't accidentally use the same one twice.
Use the right type of reusable mask
When worn for hours, masks can trap oil and prevent the natural shedding process of skin cells. This then creates the perfect environment for acne-causing bacteria to thrive. This is why skin experts consider maskne to be a form of acne mechanica. This type of acne develops in areas subject to friction, pressure, or occlusion.
Not all masks are created equal. Ill-fitting masks made of rough fabrics and material can also cause inflammation, making it crack, flake, or itch. So when it comes to masks, opt for function over style. The perfect mask should be two things: first, mainly to provide protection against airborne pathogens and second, to fit comfortably on the face without irritating the skin. Soft, natural, and breathable fabrics such as cotton and silk can help reduce the risk of new and existing maskne.
Moisturize, moisturize, moisturize!
Maskne feels painful enough, but when paired with irritation and raw skin, it becomes unbearable. Good thing it can be soothed with a combination of mild cortisone cream and a lightweight, non-comedogenic moisturizer. This prevents irritation and dryness by bringing back hydration to your skin. It also serves as a protective barrier against potential friction.
Don't forget to also apply lip balm on your lips. Pimples can form on any part of the body that has hair follicles, including the skin surrounding the lips.
Skip the makeup or do the half-face
The heat from the weather, plus the humid environment inside the mask can't be great for the skin. The mask already inhibits the skin's ability to breathe, so why weigh it down even further with heavy makeup? As mentioned above, a clean, moisturized face is enough to not exacerbate the skin's condition.
But, if makeup couldn't be avoided, then at least skip the foundation and other complexion products, including blush and bronzer. Instead, apply makeup only to the top part of your face. That's brows, eyeliner, and mascara.
Make sure you're using gentle products
You skin already feels fragile with maskne, so it should be handled with care. You can begin doing so by using gentle skincare products. Harsh ingredients like exfoliating beads and fragrance are immediate no-no's because these can cause bigger skin issues like blotchiness and dryness along with maskne.
And while alcohol is an absolute must during the new normal, it is considered as a no-brainer when it comes to skincare. In fact, your current skincare products might actually have it as an ingredient due to its drying properties. This however, excites the sebaceous glands causing it to produce more sebum in order to hydrate the skin. It then gets trapped in the glands and eventually forms acne.
Cooling facial mists that contain aloe can potentially help calm down the skin while you're out and about. The great thing about aloe is that it contains antimicrobial properties, meaning it can kill any pathogens that remain on the skin. Also carry blotting sheets with you to soak up any excess oil, especially on your cheeks and chin.
Help prevent and Treat Maskne with Lactoferrin + d-Alpha Tocopheryl Acetate + Zinc (Lactezin)!
Over-the-counter anti-acne treatments like Lactoferrin + d-Alpha Tocopheryl Acetate + Zinc (Lactezin) can help treat pimples and keep them from coming back. Lactoferrin is an iron-binding protein that can help fight pimple-causing bacteria, thanks to its anti-bacterial and anti-inflammatory properties. Meanwhile, Vitamin E helps fight free radical skin damage. Finally, Zinc is an essential mineral that has oil-regulating properties to help prevent the occurrence of maskne.
With continued intake of 2x daily, this unique combination can truly help lessen pimples ang give clear skin in as early as 2 weeks. So when it comes to pimples, trust only The Pimple Expert.
Lactoferrin + d-Alpha Tocopheryl Acetate + Zinc (Lactezin) is available in all leading drugstores nationwide. You may also purchase online through Lazada and Shopee.
SOURCES:
https://www.breezejmu.org/culture/quick-fixes-to-get-rid-of-stubborn-maskne/article_271fdaee-f842-11ea-bdad-dbd924ec216a.html
https://timesofindia.indiatimes.com/life-style/health-fitness/health-news/coronavirus-how-reusing-face-masks-can-be-riskier-than-not-using-one-finds-study/photostory/79794067.cms
Frequently Asked Questions
Do you have questions? We have answers!
Clinical Studies
Find out more about the science behind Lactezin here.
Testimonials
Know what others say about Lactezin